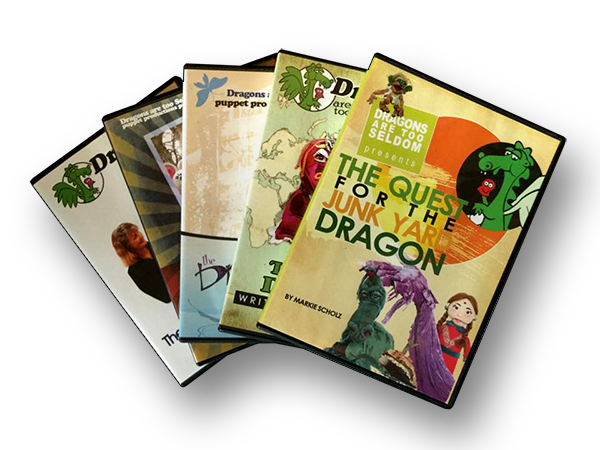 Dragons Are Too Seldom Puppet Productions is excited to launch a delightful new series of puppet shows for the whole family.
Master puppeteer and storyteller, Markie Scholz and her cadre of dragons, whimsical creatures, and bumbling bad guys have been touring the country for the past 40 years performing puppet shows for the young and the young at heart.
Now some of these shows are available as DVDs. They are hilarious adventures the whole family can watch together, over and over again. Each story is pack full of important life lessons wrapped around some VERY FUNNY puppet antics. These puppet shows are a feel good experience where the greedy villains never win and the good guys come out on top.
Dragons Are Too Seldom DVD Bundle
Quest for the Junkyard Dragon
Sharn, a young girl is the only one in the wicked Queen's Empire who can save the kingdom but not without the help of Skavang, the Junkyard Dragon.
"Markie always puts on a great show & her high energy level & devotion to children is always admirable!"
Robin Schrupp, Grant County Library, Milbank SD
The Last Dragon
Daisy suspects that she is the last living dragon and she is almost right. There is one dragon egg and she must rescue it from an evil greedy witch. Her delightful forest friends help her rescue the dragon egg and the future of dragons everywhere.
"This program was great! The puppets were awesome, the story/script was fun, and the jokes were corny. The kids were mesmerized!"
Nancy Becket, Alexander Mitchell Library, Aberdeen SD
The Dragon and the Doodlebug
Zed the Dragon has a friend Doodlebug. She can draw anything he tells her to and when she does, it comes alive! This results in hilarious adventures and misadventures that teach them life lessons that save the day.
"Very good show, the children were entertained and involved."
Wanda Nelson/ children's Librarian, Belle Fourche SD
The Great Water Rescue
Millie Rabbit and Bob Bobcat must save their valley. It has stopped raining because the Water Crystal that brings the rain has been stolen by despicable Pirate PeeWee Fox and his no-good (but very funny) assistant Flynn the Fast Footed Ferret. Clyde the crab, Noreen the Sea Gnome, Zed the Dragon all conspire to get the water crystal back where it belongs.
"The Great Water Rescue is full of dry humor and the interactive show encourages the audience to help characters solve problems."
Jan Goodnough Spearfish SD.
Dragon Digs
In this fast paced adventure everyone, Zed the Dragon, Millicent the Mole, Slubber the Hound Dog, Estelle the Mouse are looking for the Totally Tempting, Terrifically Unbelievable Treasure Underground which is hidden in a breathing talking cave.