Student Workshops
Dragons Are Too Seldom Puppet Productions conducts workshops for students of all ages and interests. In a two hour workshop, the participants make a puppet, learn to manipulate it, write a short show and have a lot of fun pushing their imaginations. As they move from concept to presentation they actively learn the skills of collaboration, cooperation and giving expression to what's on their minds. This workshop is designed to give the participants a complete experience in the art of puppetry
Staff Development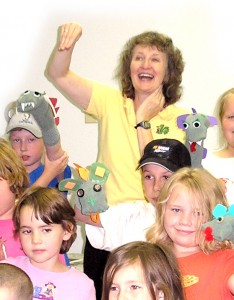 This in-service is designed to give educators an opportunity to learn how to use puppetry as a classroom tool. Puppets are one of the most successful vehicles available both for enhancing the curriculum and for encouraging positive self esteem. They help teach reading comprehension, language development, citizenship skills, creative writing, math, history, science et al.
Fee Structure*
One Program – $600
(show, workshop or in-service)
Two Programs $1100
(on the same day)
Two Days – $2,000
(two programs a day)
Four Days – $3,800
(residency or block booking)
* South Dakota Art Council Touring Program funding may be available to non-profit South Dakota organizations.
For Booking Information Contact
Markie Scholz, Dragons Are Too Seldom Puppet Productions
1920 Christensen Drive, Spearfish SD 57783
Or email your questions. We will get back to you right away.