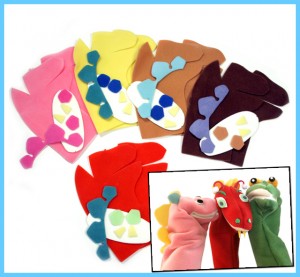 Puppet Kits
Here is the perfect project for all would be puppeteers. This kit contains pre-cut pieces for 5 dragon puppets. There are body parts, scales, ears, horns and complete instructions for sewing or hot gluing your very own unique puppet pal.
You provide the yarn scraps, buttons, art foam, pipe cleaners, and other found objects to add features such as eyes, nostrils, teeth, a tongue, etc. That way, each puppet becomes a one-of-a-kind masterpiece. Once the project is finished, you have 5 puppets that are ready, willing and able to provide hours of fun! $15.00 +s&h
Finished puppets are 11″ tall and 6″ wide.